Gutter Guard Inserts in the Fort Lauderdale & Pembroke Pines Areas
Clogged gutters? Get a quick fix for existing efficient rain gutters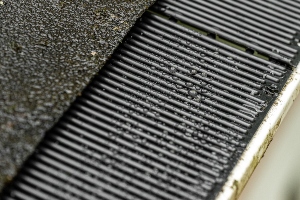 Our gutter guard insert is durable and quick to install by our specialists.
Gutter guards help keep leaves and debris from clogging your gutters, allowing rainwater to flow effectively away from your home. If your gutters are in good condition, other than the occasional clog, gutter guard inserts may be a good option to protect your gutters and avoid the need for regular gutter cleaning. High-quality gutter guard inserts prevent debris from clogging up an existing gutter system. We offer low-maintenance guard inserts for existing gutter systems without leaks or damage. Our gutter inserts are quick to install by our professionals.
Schedule a free gutter inspection and estimate today in Pembroke Pines, Fort Lauderdale, Coral Springs. and nearby.
Do gutter guard inserts work?
The short answer is yes, but choosing the right product and installation is necessary. We offer a durable, self-cleaning gutter protection solution that works. Gutter Shutter of Greater Fort Lauderdale installs gutter guards with care, protecting your roof, gutters, and foundation from costly water damage, erosion, flooding, and more. Our gutter guard inserts pair well with every roof style and 5" and 6" gutters.
Features of our gutter guard inserts:
Keeps out debris- Including leaves, twigs, pine needles, moss, and more.
Handles water in high volumes- Perfect for areas with heavy rains and downpours.
Durable- Made of a unique polypropylene blend, the gutter guard product we install withstands severe storms, heat, and cold.
Ice-resistant- Our gutter guard system is specially formulated to absorb heat from the sun, melting ice and snow quickly to keep water flowing.
Boosts curb appeal- Unlike bulky, unattractive gutters, our low-profile gutter guard blends seamlessly with your gutters.
Our gutter guard inserts are versatile, durable, and protected by a Registered 20-Year Limited Transferable Warranty.
With our gutter insert, you'll get a gutter protection solution that's quick to install by our professionals, requires minimum maintenance, and pays for itself within a few years compared to biannual gutter cleanings.
Free gutter guard estimates in Fort Lauderdale & nearby
Effective gutter guards protect your gutters, roof, and foundation from flooding and leaks. Let Gutter Shutter of Greater Fort Lauderdale help keep your investment safe with a highly-effective gutter guard system. We provide free estimates for gutters and gutter guard installation throughout Hollywood, Hialeah, Miami Gardens, Pompano Beach, Deerfield Beach, Opa Locka, Hallandale and nearby. Schedule your free estimate today with Gutter Shutter of Greater Fort Lauderdale.
Looking for a price? Get a no cost, no obligation free estimate.